Risk for obesity is largely dependent on genetic and biologic risk factors. Weight loss and especially sustained weight loss is very challenging due to strong neuroendocrine mechanisms that protect against this. Healthy bodies exist in a wide range of shapes and sizes. Our focus when working with children, youth and families is on improving overall health and well-being. Evidence suggests that obesity is a chronic condition and while weight loss may occur in a few of the patients we see, this is not the focus of our program.
Meet our team
Meet the Centre for Healthy Active Living team:
Dr. Stasia Hadjiyannakis, Pediatric Endocrinologist
Dr. Annick Buchholz, Clinical Psychologist
Dr. Laurie Clark, Clinical Psychologist
Lori-Anne Marks, Case Manager – Nurse
Anna Aylett, Registered Dietitian
Jane Rutherford, Exercise Specialist
Jolianne Paul, Social Worker
Charmaine Mohipp, Program Associate
Christiane Howe, Patient Service Clerk
Mission
To improve the health and quality of life of children with weight related health complications and support them and their families in achieving a healthy active lifestyle.
CHEO's Centre for Healthy Active Living (CHAL) works with children and their families with complex severe obesity through one coordinated and patient-specific plan of care which includes specialists such as a pediatric endocrinologist, general pediatrician, psychologists, case management nurse, registered dietitian, exercise specialist, social worker and child and youth counselor.
Recognizing that healthy bodies come in a wide range of body shapes and sizes, CHEO's Centre for Healthy Active Living works with families to help them improve health through changes in health behaviours. Making changes to health behaviours — how and what you eat, how you move and how you cope — can lead to significant improvements in health and well-being, with little or no changes in body weight.
Make a referral
Patients must meet criteria and be referred by a physician. Please note that we do not accept out of province referrals.
For health care professionals
Criteria
We accept and triage patients based on the followed criteria:
BMI greater than: a) 99th%- CDC growth charts; or b) 3 SDS- WHO growth charts; or
BMI greater than: a) 95th% (CDC growth charts) with associated severe medical or psychosocial co-morbidity or chronic illness impacted by obesity (see below); or b) 97th% (WHO growth charts) with associated severe medical or psychosocial co-morbidity or chronic illness impacted by obesity: (see below):
Hypertension requiring pharmacotherapy
Hyperlipidemia requiring pharmacotherapy-(LDL-C and/or Non-HDL- C > 4.2 mmol/L)
Technology dependent sleep disordered breathing (CPAP or BiPAP)
Persistent Impaired Glucose Tolerance or Impaired Fasting Glucose(over a 6 month period- defined as fasting plasma glucose > 6.1 mmo/L and/or 2h plasma glucose > 7.8 mmo/L)
Type 2 diabetes
Polycystic Ovarian Syndrome
Non-Alcoholic Fatty Liver Disease (elevated liver enzymes and U/S evidence of fatty infiltration)
Hypothalamic obesity (secondary to CNS tumor)
Genetic syndrome (PWS, BBS, etc.)
Tools and calculators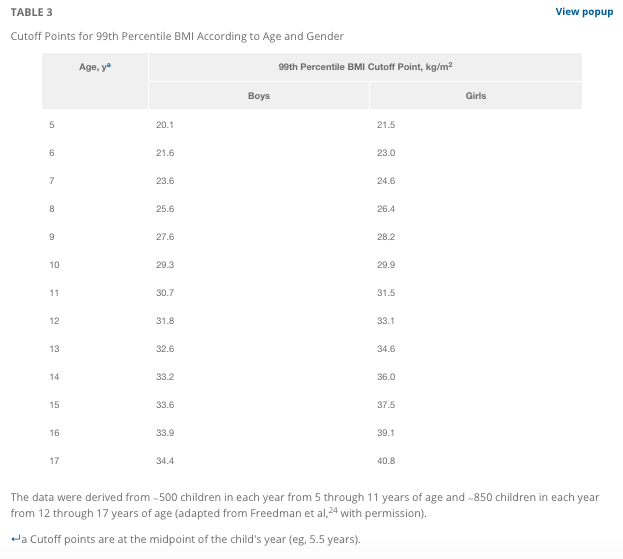 CHAL program
The CHAL program is family based and designed to be short and intensive, lasting approximately 2 years. This will give families adequate time to work closely with the CHAL specialists, participate in our group programing, and learn tools and strategies to best manage their weight and health over the long-term. Following the 2 years, families will return to the care of their family physician who will have ongoing access to the CHAL team for consultation.
Program goals
Teach families to focus on health behaviours they can control: how you eat, how you move and how you cope.
Engage the entire family in making lifestyle changes.
Improve the physical and emotional health and the quality of life for the youth in our program.
Key points
CHAL is not a weight loss program
Healthy and beautiful bodies come in all shapes and sizes
Weight management is about improving health and well-being, not simply reducing numbers on a scale
Eating and weight-related problems are not the fault of the parents or the child
Nutrition, physical activity, sleep and stress management are our medicines
Contact information
Should there be questions about the program, please call the Centre. If no one is available to take your call, leave a message that includes your name, your relationship to the child, the name and date of birth of the child, the name of the referring doctor, and details on where and when you can be reached.
Tel: 613-260-1477 x 221

Email: chal-info@cheo.on.ca
We are located off-site at 1355 Bank St, Suite 111 — our entrance faces Riverside Drive. There is a parking pay station located at the front of the building and the OC Transpo transitway is located across the street at Billings Bridge.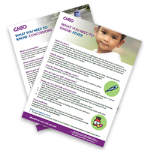 Need more information?

Visit our online resource section to learn about a variety of health topics for children and youth and access CHEO recommended websites, books, apps, videos and more!

Resources and support