We want to hear from you!
CHEO's Oncology Patient and Family Advisory Council is looking for your ideas and experiences to help them prioritize projects and better advise our Oncology Program.
Please take 1-2 minutes to share your feedback.
Please note this form is not meant for specific concerns or feedback related to your own/your child's care. We encourage you to connect directly with your case manager or our Patient Experience team to share that type of feedback.
CHEO's Hematology and Oncology Program provides comprehensive care for children and youth with blood and cancer disorders. We also provide education, research opportunities and advocacy for the children and youth in our care. Our team is made up of:
physicians
nurses and nurse practitioners
pharmacists
social workers
clinical research associates
dieticians
child life specialists
physician assistants.
You may receive care on our inpatient unit (4 North) or in our outpatient clinic (Medical Day Unit).
For young adult survivors of childhood cancer, we have a program available to help you transition to adult care.
About the Hematology Program
The program provides comprehensive inpatient and outpatient services for children and youth with blood disorders. We diagnose, treat and provide post-treatment follow-up care for children and youth with these disorders.
Outpatient clinics:
General Hematology Clinic
Hemophilia/Bleeding Disorders Clinic
Hematology-Gynecology Clinic
Sickle Cell/Thalassemia Clinic
Thalassemia Transfusion Clinic
Thrombosis Clinic
About the Oncology Program
Our oncology program provides specialized care to children and youth affected by cancer. We provide treatment through our inpatient unit on 4 North and these outpatient clinics:
Oncology Clinic
Neuro-Oncology Clinic
Ortho-Oncology Clinic
Bone Marrow Transplant Clinic
Short Term Off Treatment Clinic
Long Term Off Treatment Clinic
Oncology Aftercare Transition Clinic
Check out 4 North's new rooftop animals!

We heard from families that the view from the windows on 4 North — our inpatient Oncology unit — was... um... bleak, to say the least. CHEO's Facilities team listened to this feedback and came up with something to make the kids staying in rooms on 4 North smile! Our very own welder, Jacques Charlebois, and our painter, Marion Czesul, created animals for the rooftop in bright CHEO colours! Something to see, point to, count, and smile about. This took a huge team effort. Thank you also to Trevor, Abigail, Troy, Marc, Jody and everyone from our fabulous CHEO Facilities department.
How to Make an Appointment
A physician referral is required.
Fax the referral form to:

Division Hematology/Oncology, CHEO
401 Smyth Road
Ottawa, ON K1H 8L1
Fax: 613-738-4846
Join CHEO's Oncology Patient and Family Advisory Council
We're looking for current and past patients and their families to join CHEO's Oncology Patient and Family Advisory Council (PFAC). This is a unique volunteer opportunity for you to provide ongoing advice and guidance to inform our program, policies and future innovations. We want to learn from you and partner together to enhance the patient and family experience. Find out more about the Oncology PFAC.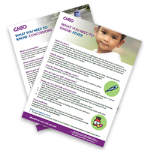 Need more information?

Visit our online resource section to learn about a variety of health topics for children and youth and access CHEO recommended websites, books, apps, videos and more!

Resources and support