The CHEO Cystic Fibrosis (CF) Clinic is located in clinic C9. We see children from just after birth until their 18th birthday, with cystic fibrosis. We see children in the CF clinic with a confirmed diagnosis of CF, or with a likely diagnosis of CF, and can arrange to see infants and children with an "indeterminate" diagnosis of CF based on CF newborn screening.
CF clinics take place on Thursday mornings. Please arrive at the time your appointment is scheduled. During visits to the CF clinic, your child will meet the CF physician and CF nurse, and will likely meet the CF physiotherapist, CF dietician, CF pharmacist, and CF social worker.
During clinic visits, your child will normally have:
weight and height measurements
a CF sputum culture or CF throat swab (if they can't produce sputum)
a pulmonary function test if your child is 6 years of age or older and can cooperate with the test
Once a year, your child will have a chest X-ray and blood work. Patients should avoid, if possible, using salbutamol (or Ventolin – the blue inhaler) for 4 hours prior to their visit to CF Clinic.
We encourage you to follow CF Canada infection control guidelines when visiting CHEO and our clinic.
How to make a referral
Children must be referred by another CF Clinic, or by a physician or nurse practitioner. Consults should be faxed to 613-738-4865. Please provide all available contact information for the caregivers, including cell phone numbers.
Contact us
main clinic reception (scheduling center) 613-737-7600 extension 2222
clinic fax number: 613 738-4298
Our staff will not provide information to families of children not already seen by a CHEO CF Clinic physician. After your child has been seen, we encourage you to register for CHEO My Chart and contact us though My Chart. You can contact health professionals who are part of the CF team through My Chart.
CF Clinic Nurse-Coordinator: Joanne Hammel RN, 613-737-7600 ext. 2214. She is available by phone 8:00-4:00 Mondays, Tuesdays and Wednesdays.
A CF physician can be reached when the nurse is not available, from 8 am till 11 PM, 7 days a week. Please call 613-737-7600 extension 0, indicate that your child has CF, and ask for the CF physician on call. When you speak to the physician, please indicate the name of your child, or have the child talk to the physician directly, if they're old enough. Physicians in the community or in an emergency department can contact a CF physician through this number 24/7. Before contacting the CF physician, if it's not a serious emergency, please consult one of these pamphlets, as they can help you deal with many common CF problems, and help determine how urgent the issue is:
for CF lung problems
for CF stomach (GI) problems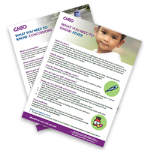 Need more information?

Visit our online resource section to learn about a variety of health topics for children and youth and access CHEO recommended websites, books, apps, videos and more!

Resources and support