The Chronic Pain Service at CHEO is for children and youth who are living with chronic pain and who want to engage a family-centered approach to pain management. Please note that we are not a diagnostic clinic. If you are still searching for medical causes of your pain, you may not be ready to engage in our program.
Program goals
Help families understand how to manage chronic pain.
Provide patients and families with the tools needed to take control over the pain and cope with it effectively.
Support patients and families in their return to normal functioning and age-appropriate activities (school, sports, social activities, jobs, chores).
The Chronic Pain team
Our interdisciplinary team is composed of a group of experienced healthcare professionals who are ready to support your family's care while engaged with the Chronic Pain Service.
Our team includes:
physicians (anesthesiologist)
clinical coordinator
pharmacist
physiotherapists
psychologists
nurse practitioner
psychiatrist
occupational therapists
social worker
administrative assistant
For patients and families
Information for patients and families of chronic pain patients.
What is chronic pain?
Pain is normal. It is processed in the brain, and it protects you and alerts your brain that tissues are under threat. However, there are two types of pain.
Chronic pain:
Usually presents for more than 3 months.
The tissues are healed but the alarm signal continues to go off.

This is not helpful because there is no longer any tissue damage.

For some there was no significant injury or illness, the pain just started on its own.
Chronic pain is more complex than acute pain.
Imaging (X-rays/MRIs etc.) cannot show us if there is something which causes pain. Pain is an output of the brain.
Treatment of chronic pain does not focus on how the pain started or where it is. We focus on managing pain and getting patients back to functioning.
Acute pain
Is the pain you feel when you break your arm, stub your toe, or touch a hot surface.
It is an alarm signal that tells us there is injury to the body—its purpose is to get our attention.
We deal with acute pain by resting, taking a break and taking pain medications.
When the tissue heals, the pain goes away (alarm signal turns off) and we can go back to our usual activities.
For health-care professionals
The following information is for health care professionals looking to refer patients for chronic pain services.
Referral Process
Patients will be triaged based upon the information obtained in the request for consultation. It is imperative that we have an overview of current and past therapies including medications, copies of investigations and imaging and a functional assessment (including school attendance and impact upon ADL and family). Use the pain clinic referral form to make referral.
Inclusion criteria
pain as primary issue
Other significant/severe medical or mental health issues have either already been addressed or are concurrently being addressed by the appropriate professionals.
Investigations to identify etiology of pain have been completed.
Pain refractory to attempted management strategies (ex: commonly used analgesics, physical or psychological therapies), or therapies not available in community despite best efforts.
Chronic pain impacts function (school attendance, sleep, mood, quality of life and/or family functioning); and
Primary provider/referring physician agrees to collaborate in ongoing pain management follow-up including writing medication prescriptions when indicated and transition planning where possible.
Exclusion criteria
no complete workup – diagnosis not complete
basic pain management not tried before – possible consult (eConsult) on basic pain management
"Headache" must be seen by Neurology or post "concussion clinic"
Identified major psychiatric disorder as primary complaint not being treated or appropriate assessor.
active Suicidal ideation
Referrals must come from a physician or nurse practitioner. The more information we have, the better able we are to triage your patients. Patients will be triaged based upon the information we received and will be categorized as urgent, semi-urgent and elective.
For more questions please contact our Chronic Pain Nurse at 613-737 7600 ext. 3559.
Contact, location and address
For information about our Chronic Pain Service, please contact our administrative assistant at 613-737-7600 ext. 3792.
The Chronic Pain Clinic is located in the Max Keeping Wing at CHEO. The reception desk is located on the main floor (second floor).
Address:
CHEO
401 Smyth Road
Ottawa ON K1H 8L1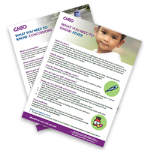 Need more information?

Visit our online resource section to learn about a variety of health topics for children and youth and access CHEO recommended websites, books, apps, videos and more!

Resources and support