CHEO's Pediatric Medicine Clinic is here to help children and youth affected by a range of pediatric issues, including:
abdominal pain
anemia
issues affecting multiple systems requiring specialized care
failure to thrive
fatigue
feeding problems
gastroesophageal reflux disease (GERD)
query developmental delay
undiagnosed medical problems
How to make an appointment
We accept referrals from family physicians and pediatricians.
Learn about what we can't accept referrals for
We're not able to accept referrals:
for primary care
to conduct ADD/ADHD assessments - please visit CHEO's Diagnostic Assessment Services page instead
related to behaviour or learning difficulties
for chronic pain support - please visit CHEO's Chronic Pain Services page instead
to provide sedation for labs/vaccines
for patients who are already transitioning to adult care
for patients with a community pediatrician, unless referred by the pediatrician
Please visit the Ottawa Community Pediatricians Network Directory for additional information and a directory of Pediatricians in our region.
If eligible, fill out our Pediatric Medicine Referral Form. Please indicate on the referral form if an interpreter is required and for which language (if language is other than English or French).
Pediatric Medicine Referral Form
Mail or fax the referral form to:
Pediatric Medicine
CHEO
401 Smyth Road
Ottawa, ON K1H 8L1
Fax: 613-738-4878
What happens next
Once we've received your referral and reviewed and triaged it, we will contact you to book an appointment. The patient will be notified directly with their appointment time.
Make sure to let CHEO know if the status of the patient changes.
About your appointment
CHEO's Pediatric Medicine Clinic is located in C-1 (Main building, level two - main floor). You will need to bring the following items to your appointment:
health card
any medications
If our Pediatric Medicine Clinic is not able to address your appointment in a timely manner, your referral will be sent to CHEO-associated pediatricians in the community. This is done to accommodate a high volume of referrals.
Please note, our Pediatric Medicine Clinic cannot guarantee an appointment within a certain period of time.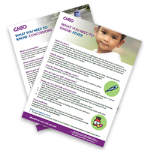 Need more information?

Visit our online resource section to learn about a variety of health topics for children and youth and access CHEO recommended websites, books, apps, videos and more!

Resources and support