The Complex Care Outpatient Program is a partnership between CHEO, local community organizations and Complex Care families to provide care coordination for children and youth who are medically complex, fragile and technology dependent.
Each child/youth is assigned to a Nurse Coordinator or a Nurse Practitioner and a Most Responsible Physician (hospital or community-based) based on their specific care needs. Additionally, each child has a unique medical care plan called a SPOC (Single Point of Care) that is updated on a regular basis. This structure ensures proactive and continuous coordination of care. The program fosters team work and collaboration through regular family focused team meetings (interdisciplinary teams, both hospital and community based) so that everyone works as "one team" to support parents' identified goals.
In 2020, our Complex Care Partnership Program celebrated it's 10 year anniversary!

The Complex Care Program was co-designed with families and community partners in 2009-2010. Over the past 10 years this program has helped improve access to and coordinate care for children and youth who are medically complex, fragile and technology dependent.

Visit our KudoBoard to learn more about some of the accomplishments, fun moments and great partnerships that have taken place over the past 10 years.
Mission statement
We help children and youth with medical complexities (CYMC) and their families to be their healthiest.
Program goals
Coordinate care: ensuring that each family has a key worker with an in-depth understanding of complex care, family strengths, needs, care plans and services
Advocate and arrange for services that promote the best possible health and development for children and youth
Provide the right care, at the right place, at the right time, for the best use of healthcare services.
Ensure access for CYMC to the Complex Care Program services
Support and empower families as equal partners as they navigate the system, helping them to access resources and services
Promote clear and easy communication between families and healthcare team members
Resources
Achievements
Improve the coordination of care of children and youth with complex medical needs
Reduce the amount of time families spend trying to communicate with the right person
Reduce preventable hospital visits (emergency visits and hospital admissions) through proactive coordination of care and anticipatory guidance
Improve the families experience with the health care system
Testimonials
"I have found working with the Complex Care team at CHEO to be very beneficial in my work with complex care clients in the community. Collaborating with the Complex Care Team better enables me to provide appropriate support for client and families with complex medical needs in the community. Having faster access to client's up to date medical care plan helps to facilitate a more comprehensive approach for the Champlain LHIN to provide community support"
Samara Lawrence RN BScN, Pediatric Care Coordinator, Champlain Local Health Integration Network (LHIN)
"The Complex Care Team offers support and comfort to many clients and families. From nurses to physicians, I feel the team always collaborates with Champlain LHIN's care coordinators in providing the most updated medical information about our clients and their health status. This collaboration has certainly led to seamless transitions from hospital to home and/or school care. Whether for in-home or school services, equipment and respite needs, this team's holistic approach to the child and its family is much appreciated and respected"
Geneviève Lafond OT Reg.(Ont.), Pediatric Care Coordinator, Champlain Local Health Integration Network (LHIN)
Complex Care Satellite Clinics
Complex Care Kids Ontario (CCKO) is a provincial strategy with the aim to expand the capacity of existing complex care clinics and establish additional regional clinics to provide complex care to extremely high need children and youth across Ontario.
Visit Complex Care for Kids Ontario (CCKO) for more information on complex care.
Timmins Satellite Clinic
Learn more about the northern Complex Care Satellite program partnership with the Timmins District hospital, Cochrane Temiskaming Children's and CHEO.
Montfort Satellite Clinic
CHEO has also partnered with the Montfort Pediatric clinic to provide care coordination with a NP lead model of care. To refer to any satellite clinics please use the referral process above.
Contact
Please call our Administrative Assistant for any questions about the program at 613-737-7600 x3838.
Referral form and criteria information
Mail or fax the form to:
Complex Care Program
Room 2011
CHEO
401 Smyth Rd.
Ottawa ON K1H 1L1

Fax: 613-738-4251
We accept referrals for:
Multicomplex child (see complexity criteria)
Medically fragile (see fragility criteria)
Dependency on high intensity care/technological device
Has an existing risk of an unexpected severe acute life-threatening event.
Child is under 16 at the time of referral
Child has a primary care provider that will remain actively involved in patient's care
Child has an unmet need for care coordination
We do not accept referrals for:
Child is over 16 years of age at the time of referral
The medical condition(s) of the child fit into a pre-existing team health care providers offering coordination of care between all required a service providers (example: Eating Disorders OPT, Psychology, Psychiatry, Dermatology, PT/OT, Cystic Fibrosis Rehab Med, Spina Bifida, Oncology)
More Information
Learn more about how to provide complex care at home for children and youth.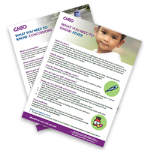 Need more information?

Visit our online resource section to learn about a variety of health topics for children and youth and access CHEO recommended websites, books, apps, videos and more!

Resources and support