What we do
The Division of Pediatric Medicine, Down Syndrome Outpatient Services provides care to children and youth with a confirmed diagnosis of Down syndrome. The Clinic makes sure that the medical needs of children are met consistent with the Canadian Down Syndrome Medical Guidelines. The clinic may also recommend and briefly address certain aspects of developmental, behavioural, and educational issues.
Our team
Our team consists of two part time pediatricians, two nurses, and a part time dietician.
Being referred to the Down Syndrome Clinic
Please contact us at the numbers below. Those with a confirmed Down syndrome diagnosis will be contacted by a Nurse Coordinator. Our coordinator will answer your questions, set up an appointment and refer you to other health and developmental services if needed.
How to reach us
If you have any questions or concerns about your child's health, contact us. These numbers are monitored Monday to Friday from 8:30am-4:30pm. If no-one is available to take a call, leave a message that includes your name and your relationship to the patient, the name and date of birth of the patient, the name of the doctor, and details on where and when you can be reached. We will get back to you within 2 business days.
Phone numbers
CHEO's main number 613-737-7600
to reach the Down Syndrome Clinic: extension 4105
to reach a Nurse Coordinator: extension 2825
to reach the doctor's offices call: extension 2664
to reach the dietician: extension 3375
Fax
to send a fax: 613-738-4292
Our phone numbers and fax number are not emergency lines. For emergencies, contact your family physician, Telehealth Ontario or 911.
Getting ready for your appointment
Please bring these to your appointment:
Immunization Record
record of medication and dosage
school reports
therapy reports (i.e., OT, PT, Speech)
Health Card
proof of address
Rescheduling your appointment
Please call us to discuss rescheduling your appointment if your child has one of these symptoms on the day of your appointment:
fever
cold symptoms (i.e., cough, shortness of breath, runny nose)
diarrhea/vomiting
chicken pox
If your appointment isn't urgent, we will reschedule for a time when your child is feeling better. If the appointment is to discuss any of these symptoms, we will keep your scheduled appointment. If we do need to reschedule, we will do our best to give you the next available appointment time.
If anyone accompanying the child to their appointment has a cold or other infection, please let our clinic know. They may be required to wear a mask during their visit, and should return home immediately after.
During your appointment
You will be seen by one of our clinic's pediatricians, who will discuss any questions or concerns you have. We will update your family physician after the appointment so they can continue to meet all of your child's health and wellness needs. Our clinic does not provide primary care — please keep in close contact with your regular doctor while being followed by our clinic.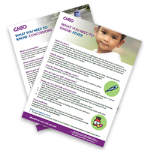 Need more information?

Visit our online resource section to learn about a variety of health topics for children and youth and access CHEO recommended websites, books, apps, videos and more!

Resources and support