About the Metabolics program
Our clinic provides care for the following types of symptoms or diseases:
children with recurrent unexplained illness or progressive deterioration in physical or mental status
children or adults with known or suspected genetic metabolic diseases such as amino acid, fatty acid, organic acid, or sugar disorders, lysosomal storage, peroxisomal or mitochondria disorders
children with a positive newborn screen
children and adults with a positive family history of metabolic disease
children or adults with unexplained seizures and/or neurological dysfunction
children or adults with unexplained neurodevelopmental disorders (global developmental delay, intellectual disability, autism spectrum disorder, or other complex developmental-behavioural disorder) can be referred to the Neurodevelopmental Disorders Diagnostic Clinic (NDDC)
How to make an appointment
A physician referral is required. Please make sure to include the following in your referral:
physician's full name and phone number
physician's number
patient's name, address, and phone number
relevant family history (i.e. who is affected, exactly how they are related to the patient)
appropriate medical records (i.e. pathology reports, test results) of the patient and/or affected relatives.
Please mail or fax your referral to our office, using the contact information below.
Getting ready for your appointment
What should you bring to your appointment?
health card
relevant medical records
relevant dietary records
prescription renewal request
What happens at the metabolics clinic?
A medical student, resident or fellow might see your child first.
Then, you and your child will meet with:
doctors with special expertise in genetic metabolic disorders
dieticians who specialize in the nutrition issues of metabolic disorders
psychologists and social workers, if needed
What tests might you need?
We may need to perform tests, either on the same day as your visit or at a later date. These tests include:
blood test
urine test
x-ray or other medical imaging
If needed at later visits, more specialized testing could be requested. These tests and the results will be discussed with you at your clinic visits.
Fees
For families covered by OHIP, our services come at no cost. Please bring your child's health card to each appointment. There may be exceptions, which we will deal with on a case by case basis.
Locations and hours
For any questions or concerns, please contact us at 613-737-7600 extension 3912.
Metabolics clinic
The Metabolics clinic is located at the main CHEO campus (401 Smyth Road) in Clinic C-5. We are on the main level of the hospital. Please follow the maps and signs to find us. Our clinic is open Monday to Friday, 8a.m. to 4p.m.
Mailing address
Clinic C-5
CHEO
401 Smyth Road
Ottawa, ON K1H 8L6
Tel: 613-737-7600 Ext 3912
Fax: 613-738-4258
Metabolics office
The Metabolics office is located on the 3rd floor of the Max Keeping Wing, attached to the main CHEO building. The metabolics office is open Monday to Friday, 8a.m. to 4p.m.
You can reach the metabolics administrative assistant at 613-737-7600 extension 2821 or by fax at 613-738-4216.
Mailing address
Division of Metabolics and Newborn Screening
Department of Pediatrics, Room W3116
CHEO
401 Smyth Road
Ottawa, ON K1H 8L6
Tel: 613-737-7600 Ext 2821
Fax: 613-738-4216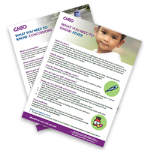 Need more information?

Visit our online resource section to learn about a variety of health topics for children and youth and access CHEO recommended websites, books, apps, videos and more!

Resources and support