Our clinic specializes in children and youth with type 1 diabetes, type 2 diabetes or other glucose deficits. Our goal is to help children and teens with diabetes manage their medical, nutritional and psychosocial needs related to diabetes. We want to empower children and young adults with diabetes to live normal lives.
Contact us
New patients
Physician referral is required.
Mail or fax a referral form to:
Diabetes Clinic (C-10), CHEO
401 Smyth Road
Ottawa, ON K1H 8L1
Fax: 613-738-4236
Patients already followed in our clinic
Please contact the call centre at 613-737-7600 ext 2222.
Diabetes educators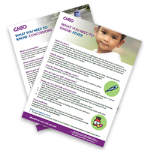 Need more information?

Visit our online resource section to learn about a variety of health topics for children and youth and access CHEO recommended websites, books, apps, videos and more!

Resources and support