Physiotherapists combine in-depth knowledge of how the body works with specialized hands-on clinical skills to assess, diagnose and treat symptoms of illness, injury or disability.
We offer hospital-based services to children and youth in inpatient units and outpatient clinics. We also offer community based services to clients and families through the Children's Treatment Centre.
Hospital-based outpatient services
Who we see:
Post-operative patients
Any child 10 years of age and under with a musculoskeletal condition
Children over 10 years of age with complex orthopedic conditions
Children over 10 years of age involved with a multi-disciplinary team
Congenital musculoskeletal deformities
Torticollis
Brachial plexus injuries
Delayed acquisition of gross motor skills
Developmental Co-ordination Disorder in the preschool population
Rheumatology patients
Oncology patients
Sub-acute neurological rehabilitation patients
Who we do not see:
We do not see children with a diagnosed/or suspected neurological condition or Developmental Coordination Disorder in school aged children.
We also do not see children over 10 years of age, with the following orthopedic conditions:
Patello-femoral knee pain
Sprains and strains
Fractures
Subluxations and dislocations
Tendonitis
Meniscal tears
Postural and mechanical neck and back pain, non-surgical scoliosis and postural malalignment
TMJ dysfunctions
Children's Treatment Centre (CTC) services
Find detailed information on the programs and services available through the Children's Treatment Centre.
Physiotherapy outside CHEO
Find the publicly funded physiotherapy clinic closest to you.
Make a referral:
For hospital-based services, a physician must send a referral to our Access Team. Your referral should include the diagnosis or reason for referral and all pertinent medical information. You can phone the access team at 613-737-2757 or by fax at 613-738-4841.
For Children's Treatment Centre services, we accept physician referrals or client and family self-referrals.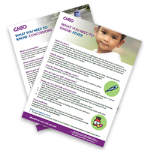 Need more information?

Visit our online resource section to learn about a variety of health topics for children and youth and access CHEO recommended websites, books, apps, videos and more!

Resources and support