The CHEO Dental clinic provides specialized services to children and youth presenting with dental conditions requiring treatments in a hospital setting. The clinic provides a full range of dental specialties services in both the outpatient clinic and the operating room.
The CHEO Dental clinic is also the designated regional Centre for The Cleft lip and/or palate program. The program allows for integrated care of complex dental/facial anomaly.
Referrals
Eligibility criteria for referrals:
Children 5 years and under with severe cavities
Children 17 years and under with a significantly compromising medical condition such as cancer, organ transplant, congenital heart disease, cleft lip and/or palate, craniofacial anomaly, physical disabilities, developmental delay and autism.
How to make an appointment
Physician or dentist referral is required.
Send your referral form to:
Dental Clinic (C-7), CHEO
401 Smyth Road
Ottawa ON K1H 8L1
Fax: 613-738-4201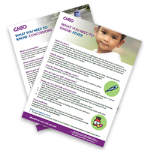 Need more information?

Visit our online resource section to learn about a variety of health topics for children and youth and access CHEO recommended websites, books, apps, videos and more!

Resources and support
Your visit
On the day of your first visit, you will register with the clerks at the front desk. You will be required to fill a series of forms and questionnaires.
Please have with you:
Your child's valid OHIP card
All relevant information/X-rays from your family dentist
Your dental insurance information
The initial clinic visit is for the purpose of assessing your child's dental health, dental needs and oral hygiene. Please remember, most dental treatment is not included in OHIP coverage.