About the Dermatology Clinic
CHEO's Dermatology Clinic diagnoses and treats common and complex skin conditions, caring for more than 4,000 children each year. CHEO's Dermatology Clinic offers outpatient consultations as well as inpatient consultations for children and youth staying at CHEO and tele-consultations across Ontario.
CHEO is a training and education centre, so you may see students and trainees at your visit. You may also be invited to participate in a research study. Research conducted at CHEO helps improve patient health outcomes.
CHEO's Dermatology clinic sees patients with:
Skin rashes
Skin lesions not yet diagnosed
Hemangiomas and vascular anomalies
Nevi / moles
Atopic dermatitis
Psoriasis
Pigmentation disorders
Hair / nail abnormalities
Complicated acne
Genodermatoses
Autoimmune disorders
Urticaria and related syndromes
Skin infections
Tumors / nodules
Our team works with other clinics and departments at CHEO, since many skin problems are related to therapies and prescribed medications like chemotherapy. Our clinic offers biopsies, done by our physician.
How to make an appointment
Physician referral is required.
Fax the referral form to:
Clinic C-9
Dermatology Clinic, CHEO
401 Smyth Road
Ottawa, ON K1H 8L1
Fax: 613-738-4298
Questions?
Nurse Case Manager: 613-737-7600 extension 1237
Social Work: 613-737-7600 extension 2890
Filling your prescription
Please call your pharmacy and ask them to fax us a prescription refill request at 613-738-4298. Refills may take 3-5 days before they are reviewed and filled. Please plan ahead and request a refill before your medication runs out.
Getting ready for your virtual appointment
CHEO's Dermatology clinic is offering telephone appointments in some cases. Sometimes when we call families, it shows up as a private number. If you receive a call from a private number, especially at a time when you have a scheduled CHEO appointment, consider answering as it may be your care team calling.
To prepare for your virtual appointment, you must upload a recent photo of your child's condition to MyChart. This is important information for your Pediatric Dermatologist to review.
To upload a photo, use the two-way messaging feature in MyChart. Instructions on how to do this can be found below.
Don't have a MyChart account yet?
Please register for one at least one week prior to your appointment! It can sometimes take a few days for your access to be granted.

To learn more about MyChart and register, visit our MyChart page and fill out the MyChart Access Request Form.
Sending two-way messages in MyChart
Once you have registered for MyChart, you will be able to send your two-way message to the nurse in the Dermatology clinic. In that message please attach up to three recent photos of your child's condition. Please send the photos at least 48 hours before your upcoming appointment. Here are some tips for using two-way communication with our Dermatology team:
Please only send one message and include no more than three photos.
We won't be able to answer messages in MyChart for upcoming telephone appointments. If you have any questions, your child's care team can discuss them with you during your appointment. Pease make a list of any questions you have, and have the list with you during the appointment so you're ready to discuss.
After the appointment, you can use MyChart to communicate with the nurse case manager if you have any questions or concerns regarding your child's condition.
Step-by-step guide to sending two-way messages in MyChart
Go to the KHA MyChart page to login to MyChart using your username and password
If you have more than one child/patient active on MyChart, select which child you want to view the results for.
Use your curser to hover over the "Messaging" icon and select "Ask a Question" from the list
Select "Ask a medical question". To complete a medical question, there are four sections you will need to fill out:

Choose a recipient: use the dropdown list to choose which clinic are you sending the message to
Select a subject: use the dropdown list to choose the subject of the question you are asking
Who can view the message online: use the checkboxes to choose who can see this online
Your question: write out any details of your question here

Click on the "Attach an Image" button at the bottom of the form and upload up to three images. The maximum file size is 9.77 MB and you can upload these file types: BMP, JPEG, JPG, PDF, PNG, TIF, TIFF.
Once the form is filled out and you have attached the images, select "Send" to submit the form.
How do I check for replies and updates in MyChart?
Replies or updates to your question can be found in MyChart's Message Center. Login to MyChart, use your curser to hover over the "Messaging" icon and select "Message Center" from the list.
Questions about MyChart?
For questions about navigating MyChart please call 613-737-7600 extension 6789, or email mychart@cheo.on.ca.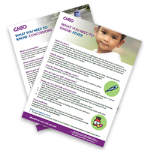 Need more information?

Visit our online resource section to learn about a variety of health topics for children and youth and access CHEO recommended websites, books, apps, videos and more!

Resources and support