About the Dermatology Clinic
CHEO's Dermatology clinic sees patients with:
skin rashes
skin cancer
hemangiomas (whether the case is genetic or exposure to infection or pathogens).
Our team works with other clinics and departments at CHEO, since many skin problems are related to therapies and prescribed medications like chemotherapy. Our clinic offers biopsies, done by our physician.
How to make an appointment
Physician referral is required.
Fax the referral form to:
Clinic C-9
Dermatology Clinic
CHEO
401 Smyth Road
Ottawa, ON K1H 8L1
Fax: 613-738-4865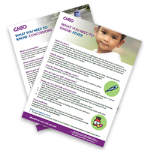 Need more information?

Visit our online resource section to learn about a variety of health topics for children and youth and access CHEO recommended websites, books, apps, videos and more!

Resources and support