About the Orthopedic, Sports Injury and Scoliosis Clinic
Our clinic treats children and youth with musculoskeletal injury, disease, abnormality or syndrome that requires an assessment by our orthopedic surgeons.
CHEO has also developed a sports injury program providing specialized rehabilitation services. Our program focuses on injury prevention. It features complete assessment and treatment of sports injuries for the pediatric population. The program aims to ensure that children and adolescents with sports injuries achieve full rehabilitation and return to their sports and activities in a timely manner.
Our vision
[add text]
Our history
[add text]
Our services
What services do you offer?
[Add text]
What conditions do you treat?
[Add text]
What conditions do you not treat?
[Add text]
How to make an appointment
Physician referral is required. Please have your family physician send the form to us at the address below, or call 613-737-2222 to make a referral.
Download the orthopedics referral form.
Location
Orthopedic, Sports Injury, Scoliosis Clinic (Clinic C-4), CHEO
Ottawa, Ontario
401 Smyth Road
K1H 8L1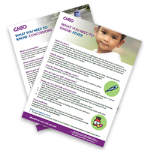 Need more information?

Visit our online resource section to learn about a variety of health topics for children and youth and access CHEO recommended websites, books, apps, videos and more!

Resources and support