For up-to-date information about COVID-19 and IBD please visit Crohn's and Colitis Canada and the Crohn's and Colitis Foundation.

For questions about CHEO's COVID-19 response and any impact on your upcoming appointments, visit our COVID-19 page
Making kids better, like Sebastien!
The Inflammatory Bowel Disease (IBD) Centre at CHEO provides a comprehensive multidisciplinary team approach to treatment of children diagnosed with these disorders, the two most common sub-types being Crohn's disease and ulcerative colitis. The Centre is within the Division of Gastroenterology, Hepatology and Nutrition.
The Centre is committed to delivering quality care through:
improving patient outcomes
commitment to research and knowledge sharing
adopting a multidisciplinary approach
translating evidence-based care into practice
maintaining professional relationships with organizations and industry
Meet the IBD Centre team
Making a difference and obtaining the overall wellness for each child and youth is what we strive for. We have many experts working together to do this including:
Physicians
Dr. David Mack, MD, FRCPC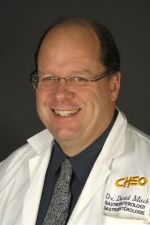 Dr. Mack's Pediatric Gastroenterology fellowship training was completed at the Hospital for Sick Children, University of Toronto. Following training, Dr Mack was appointed to Faculty of Medicine at the University of Nebraska Medical Centre prior to being recruited to Ottawa. In 2001, he was recruited to Ottawa with an appointment of Professor of Pediatrics at the University of Ottawa with a mandate and vision to develop a Division of Pediatric Gastroenterology, Hepatology and Nutrition. Aligning with excellence, staying focused on the goals, being consistent in optimism, patience, integrity, respectfulness, passion and communicating defined his tenure. Over the years the Division has recruited strong members to expand its clinical expertise, increase diagnostic capabilities for the children and youth served by CHEO and moved forward with a strong research program. While recently stepping down from Division Chief he will remain as Director of the CHEO IBD Centre, continue with translational intestinal microbiome research in IBD along with various national leadership roles. He recently received the Canadian Association of Gastroenterology Distinguished Service Award. In 2020, Dr. Mack received the Distinguished Clinical Research Chair Award from the University of Ottawa Faculty of Medicine.
Distinguished Clinical Research Chair
Professor, Department of Pediatrics, Faculty of Medicine, University of Ottawa
Director, CHEO Inflammatory Bowel Disease (IBD) Centre
Past Chief, Division of Gastroenterology, Hepatology and Nutrition
Dr. Nicholas Carman, BSc, MBBS, FRACP
Dr. Carman's Pediatric Gastroenterology fellowship training was completed at the Royal Children's Hospital in Brisbane, Australia. He subsequently moved to Canada to undertake an advanced clinical research fellowship in Inflammatory Bowel Disease at the Hospital for Sick Children in Toronto in 2014. In 2017, he was recruited to join the Division of Pediatric Gastroenterology, Hepatology and Nutrition at CHEO with an appointment as an Assistant Professor of Pediatrics at the University of Ottawa. Dr. Carman has a special clinical interest in advanced intestinal diagnostic techniques in the diagnosis and management of gastrointestinal diseases. Dr. Carman's research interests are focused on children with Inflammatory Bowel Disease.
Assistant Professor, Department of of Pediatrics, Faculty of Medicine, University of Ottawa
Director, Advanced Endoscopic Diagnostics and Therapeutics
Division of Gastroenterology, Hepatology and Nutrition
Nurse case managers
Nathalie Fournier, RN, BScN, NSWOC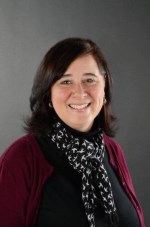 Nathalie has been part of the CHEO family since graduating nursing from uOttawa in 1986. She joined the newly created Gastroenterology and Clinical Nutrition service in 1998, the same year she won an award for Excellence in Professional Practice. In addition, she is a nurse specializing in wound and ostomy care and has published through CAET's magazine for youth with ostomies, entitled Body Talk. Nathalie was also a collaborator in the "IBD Doesn't Define Me" booklet – personal stories from people living with Crohn's Disease and Ulcerative Colitis. She enjoyed being a facilitator for IBD support groups. She developed many of the GI/IBD educational pamphlets and keeps them up to date.
Chantal Shouldice, RN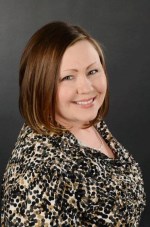 Chantal graduated with Distinction from St. Lawrence College in Brockville and in June of 1997. Chantal joined the GI team in 2007 with a primary clinical focus in IBD. In 2008, she initiated and participated with a multidisciplinary team which developed a hospital-wide teaching tool for self-injection of methotrexate and continues to teach IBD patients using that tool. Chantal has been involved in such initiatives as the development of patient teaching tools and the administration protocol for the Capsule Endoscopy testing in the Division.
Research team
Ruth Singleton, RN, CCRP, Clinical Research Lead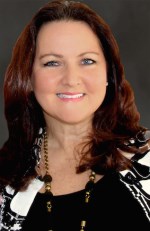 After graduating from nursing, Ruth has enjoyed diverse nursing experiences in Canada and the U.S. It was during her time in Toronto that evidence-based nursing and research became a passion. Following that, her appreciation and respect of children was apparent when she worked tirelessly during her 11 years in the U.S where she was granted the Nebraska PTA State Life Award for outstanding service to children and youth. The CHEO Research Institute recognized her for her work as Clinical Research Coordinator for Gastroenterology Research. This continued work ethic and enthusiasm is now focused on IBD Research.
Pauline Barbeau, BHSc, MSc - Clinical Research Coordinator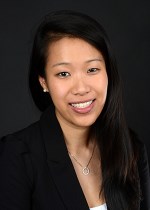 Pauline graduated from the University of Ottawa's Health Sciences Program in 2010 and completed her Master's degree in Epidemiology. She is elated to be a part of the IBD research team where the health of children affected by gastroenterological issues are of top priority. As a research coordinator, she is excited to be involved with a variety of projects. Pauline's main focus is the Canadian Children Inflammatory Bowel Disease Network (CIDsCaNN).
Louise Lenz, IA, B.Sc.Inf. - Clinical Research Coordinator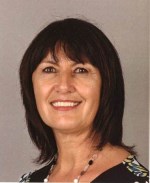 Louise has over 40 years of healthcare experience in hospitals in Saskatchewan, Germany, Quebec and Ontario, having held a variety of positions such as staff nurse, clinical educator, assistant head nurse, head nurse, clinical manager and director. Continuing to step into the Nurse Case Manager(NCM) role to cover for the IBD NCM's when needed, Louise maintains her primary goal of helping kids and families. Louise supports the CHEO IBD Centre Research projects and is our resident research interview specialist.
Amanda Mack, BScN, BEd, MSc - Research Coordinator REDCap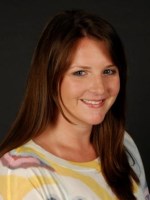 Amanda started volunteering in the Division of Gastroenterology in 2006 and continues on as Research Coordinator. Amanda is a strong asset to many of the research and clinical projects underway at the CHEO IBD Centre. Her current focus concentrates on development and implementation of REDCap databases for the CHEO IBD Centre. She is a valuable member of the team volunteering to take on multiple projects outside of her work to support the CHEO IBD Centre and CHEO.
Social worker
Krystel Marleau-Rancourt, BSW, RSW
Bio coming soon.
Dietitians
Sydney Harris-Janz, BSc, RD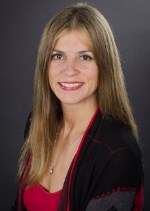 Sydney completed her Bachelor of Human Nutritional Sciences at the University of Manitoba (2009), and Dietetic Internship via the Ottawa Hospital Dietetic Internship Program (2010). She worked at the Canadian Centre for Agri-Food Research Health and Medicine at the St. Boniface Hospital Research Centre and also the Richardson Centre for Functional Foods and Nutraceuticals in Winnipeg. Sydney joins the Gastroenterology Team at CHEO in 2015 after working in several other clinical areas at CHEO including Hematology/Oncology, Immune Deficiency, and General Medicine.
Pharmacy technician
France Chiasson, Pharmacy Technician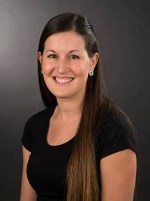 France Graduated from La Cité collégiale in 2013 under the pharmaceutical techniques program and obtained her pharmacy technician licence in 2014. She has been working in the pharmacy department at CHEO since 2013 and teaches sterile technique at La Cité collégiale part time since 2015.
Administrative assistant
Susan Lemieux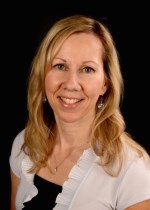 Susan is a graduate of the Secretarial Science program at Vanier College in Montreal, Quebec and received her certificate in French Studies from Concordia University. She previously worked at The Montreal Children's Hospital in administration before joining CHEO in March 2011. Susan is the Administrative Assistant for the Division of Pediatric Gastroenterology, Hepatology and Nutrition.
Need more information? Visit our online resource section to access CHEO recommended websites, books, apps, videos and more!
Events
IBD Youth Gut Together 2020 postponed until further notice
IBD Youth Gut Together 2019
Expedition IBD was quite a journey!
Expedition IBD was a huge success! Attendees at the IBD Youth Gut Together 2019 were guided on an expedition by IBD doctors and researchers to discover the work being done to uncover the newest IBD discoveries. The microbes literally flew (thank you Dr. Figeys!) as we heard from world renowned IBD experts. We put our skills to the test and performed actual experiments using techniques the researchers use to learn more about IBD. As our Expedition Tour Guides took us through the depths of the laboratories, exclusively opened up to the YGT participants, we learned more and saw firsthand where the IBD research is done. The Olympus station had our doctors watching US do the endoscopes! An amazing morning of interactive learning and fun for kids and families affected by IBD.
Scholarship opportunities
Crohn's and Colitis Canada IBD scholarship
Application period has closed for 2019. We invite you to check back next year.
Are you a student living with Crohn's disease or ulcerative colitis and are attending a post-secondary institution in fall 2019? If yes, please apply for one of ten one-time scholarships of up to $5,000 for students living with Crohn's disease and ulcerative colitis.
The AbbVie IBD Scholarship is a competitive bursary. All applications must be submitted online at IBD Scholarship.
Application deadline is 5pm EST on June 1, 2019. Visit the website to learn more about the requirements to apply. Please note the scholarship application can take some time to prepare, so early submission is recommended. Past applicants are welcome to reapply.
Featured stories
Researchers tackle Crohn's disease and ulcerative colitis in children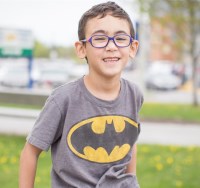 Genome Canada recently awarded Dr. David Mack, Dr. Alain Stintzi along with a team of researchers at the University of Ottawa and CHEO $9.1 million to help crack the mystery of the intestinal microbiome in Crohn's disease and ulcerative colitis (Inflammatory Bowel Disease - IBD) and find better treatments. With these funds, the team expects to make a significant difference in the lives of children like Sebastien. Read Sebastien's story.
Meet our benefactors
Be inspired by the outstanding commitment, leadership and support exemplified by our donors. Learn more about the significant ways in which these incredibly generous donors and friends have contributed to the CHEO IBD Centre, and how they continue to help us build a community of healthy children both here and around the world.
IBD Foundation Supports IBD Research with the "Wheels of Research"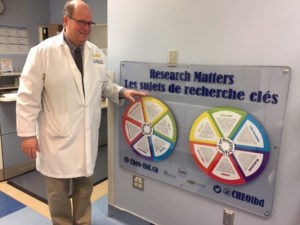 The "Wheels of Research" is an interactive tool that engages families in Research Projects. Made possible by the generous funding and resources of the IBD Foundation, the "Wheels" are spinning with new ideas, research overviews and the opportunity for discussion. Placed in the CHEO IBD Centre beside a wall of published articles already produced from research that our families have participated in, families are encouraged to ask about research and have opportunity to be involved.
IBD Foundation Donates "Your Child With Inflammatory Bowel Disease" books for every family newly diagnosed at the CHEO IBD Centre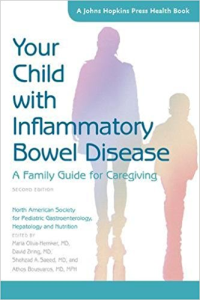 The book "Your Child with Inflammatory Bowel Disease" is an educational resource for parents of children and adolescents who have been diagnosed with Crohn's disease or ulcerative colitis. It was written by expert specialists in pediatric IBD who are members of the North American Society for Pediatric Gastroenterology, Hepatology, and Nutrition (NASPGHAN). Dr. Mack, Director of the CHEO IBD Centre, is a contributing author to this book. It is designed to help families understand what is happening or might happen to their child when he or she has been diagnosed with this chronic intestinal condition. The family of every child diagnosed with IBD at the CHEO IBD Centre is given a copy of this book to take home thanks to a generous donation and the continued support by the IBD Foundation.
Kick Off For Kids Tailgate Party
RedBlacks President Jeff Hunt and the IBD Foundation hosted the "Kick Off For Kids" Tailgate Party to raise awareness and funds for the Inflammatory Bowel Disease (IBD) Centre at the Children's Hospital of Eastern Ontario. Event ambassador Angus Albinati, 11 yrs old, donated funds he raised and stored in his piggy bank to total the dollars raised at the event to over $17,000.00! Pictured are IBD Champions who were given the VIP treatment at the home opener and were illuminated on the Big Screen while feeling what is like to stand on the field at half time!
Research
As well as providing patient care and family support based on the most current approaches to diagnosis, treatment and long-term management, the Centre conducts basic laboratory research and patient studies in pediatric IBD. The research is conducted both through the CHEO Research Institute and collaboratively with other related institutes and centres.
Education and training
The IBD Centre is committed to sharing knowledge of the oftentimes complex and specialized care that may be required for children with IBD and their families.
The IBD Centre also provides training and education opportunities for learners, health professionals and researchers in our region and beyond.
With an environment of learning and knowledge transfer between patients, care personnel and scientists we hope optimizing patient outcomes will be the result.
Donate now
You can help fund important research by donating to our IBD fund through the CHEO Foundation. When making your donation, please select 'other' and specify either gastroenterology fund or IBD fund.