The CHEO Sleep Lab is located in clinic C20. We see children up to 18 years old with breathing abnormalities during sleep. Sleep studies are used to diagnose breathing problems associated with sleep, and to guide and adjust treatments for sleep disordered breathing such as:
Tonsillectomy and adenoidectomy
Continuous positive airway pressure (CPAP)
Bi-level positive airway pressure (BiPAP devices)
We also evaluate technology-dependent children, such as children receiving home ventilation through a tracheostomy. We also evaluate children with known or suspected central or obstructive sleep apnea, including children with:
underlying obesity
neuromuscular diseases
genetic syndromes
craniofacial anomalies.
Please note that there is a long waiting time for sleep studies, which may be more than 1 year.
What to expect during your stay
During your stay, the child or youth's sleep will be monitored. They will be kept overnight, with one staff monitoring up to two children. We will also look at:
Breathing
Sleep stage
Movement
Heart rate
Oxygen
Carbon dioxide levels
When you arrive, the therapist will explain the test and the equipment needed. Sleep studies are not painful. For the sleep study, we will apply sensors to different parts of your child or teen's body (this doesn't hurt). These sensors give us a lot of information about breathing during sleep. During the study, your child or teen will have:
Sensors on the head to monitor brain activity
Elastic belts around the chest and abdomen measure breathing
Sensors under the nose to measure airflow in and out of the nose
A clip on the finger or toe to measure oxygen levels
A microphone to record any snoring
Electrodes on the sides of the eyes to monitor eye movements
Sensors under the chin to measure muscle tone (whether or not the muscles are relaxed)
Some patients have another sensor on the chest to measure carbon dioxide (air we breathe out).
It takes about 20-30 minutes to put on all the sensors. After this, you can help your child to settle to sleep. Parents or guardians are responsible for the care of children and youth during the sleep study. There is a pull out bed for parents.
The therapist will watch patients while they sleep by video monitor from a separate room. We'll wake you and your child or teen up between 5:30- 6:00 a.m. We'll remove all sensors and you can leave the lab shortly afterwards.
What happens after your stay
After your stay, our team will follow up with you to discuss any diagnosis and next steps. We will send the results to the doctor who referred you in 4-8 weeks.
Solutions and treatment options can include:
Changing their sleep schedule
Adenoidectomy or tonsillectomies
Positive airway pressure (CPAP)
Referrals to mental health services.
Whatever your need, our team will make sure that your child is able to have a restful and peaceful sleep.
How are pediatric sleep labs different from adult labs?
Children and youth have different medical needs than adults do. These are some of the differences:
Diagnostic criteria's are different for children and adults
Our equipment needs to be specialized for children and youth
We may need to spend more time comforting and reassuring a nervous child or parent.
Children require more supervision – adult sleep labs can have one technician monitoring up to 4 patients. At CHEO, we have one technician monitoring two children.
We understand that children and youth aren't just tiny adults — to help them feel comfortable in an unfamiliar setting, they can bring some of these items with them for their stay:
Their own blanket
A favourite stuffed animal
A book
We also keep most of the equipment out of the room overnight, to help them sleep peacefully.
How to make an appointment
Children and youth must be referred by a physician or nurse practitioner. Please provide all available contact information for the caregivers, including cell phone numbers. Note that the Sleep Lab will not perform sleep studies on children with behavioral sleep issues, such as insomnia. Children with behavioral sleep issues can be referred to the Behavioral Sleep Clinic, part of the Respirology Clinic instead.
Depending on the referral, the CHEO Sleep Physicians may decide to see the child first in Sleep Clinic, see the child only after the sleep study or may not see them in clinic and send results back to your referring physician instead.
Please select the appropriate referral form:
Sleep Laboratory Referral Form
OR
Respirology Sleep Clinic Referral Form
Mail your referral form to:
Clinic C-9
Sleep Disorders Centre, CHEO
401 Smyth Road
Ottawa, ON K1H 8L1
Fax: 613-738-4298
Contact us
Main Clinic Reception (C9) (scheduling center) 613-737-7600 extension 2222
Sleep Disorders Centre Fax: 613-738-4298
Home Ventilation/Complex Lung Disease Respiratory Therapist: 613-737-7600 extension 2984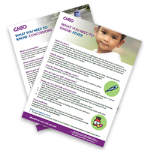 Need more information?

Visit our online resource section to learn about a variety of health topics for children and youth and access CHEO recommended websites, books, apps, videos and more!

Resources and support
Need more information?
Visit the sleep section to learn about a variety of health topics for children and youth and access CHEO recommended websites, books, apps, videos and more!
Resources and support