Safety. Innovation. Mastery.
About our program
The CHEO SIM Program provides a place where health professionals from all disciplines can come together to share, learn and master essential skills in a safe collaborative environment. CHEO SIM is an innovative program that combines in-situ and lab-based experiences for CHEO health care providers, community partners and families. CHEO SIM delivers high-quality educational programs and is committed to engaging in research to improve educational experiences, patient safety and care delivery. The CHEO SIM program is dedicated to creating a respectful, supportive, collaborative and safe environment for all learners.
The CHEO SIM program works hard to deliver learning experiences that most closely match those encountered in real life. Simulation events are conducted in-situ (i.e. in-patient units, ICU, ED etc.) or in the CHEO SIM lab. Our simulation lab, opening in 2022, has two rooms designed to mimic pediatric clinical settings and a debriefing space equipped with high-tech audiovisual equipment that can be used to record, stream and evaluate live simulation events.
In addition to multidisciplinary educational programs, the CHEO SIM is program is committed to research using simulation. Published literature has demonstrated the significant value of simulation-based education in improving teamwork and solidifying skills. The CHEO SIM program is involved in a variety of simulation-based research projects with a special focus on improving patient safety through the innovative use of simulation in studying adverse events.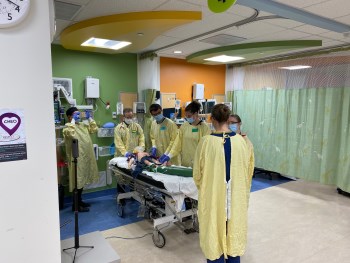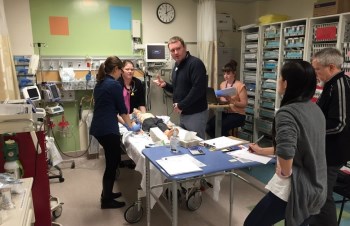 Mission, vision and values
Mission and vision
CHEO's Simulation Program provides a place where health professionals from all disciplines can come together to share, learn and master essential skills in a safe collaborative environment. We enhance and advance paediatric health care and patient safety through innovative simulation-based research and by providing high-quality and effective learning opportunities for our partners and community.
Values
Collaboration
Innovation
Safety
Respect
Excellence
Inclusive
Meet our CHEO SIM leadership team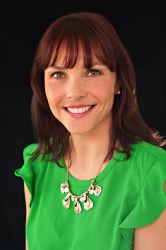 Dr. Anna-Theresa Lobos, Medical Director of Simulation
Dr. Lobos is an Associate professor at the University of Ottawa, Department of Pediatrics and Division of Critical Care. In addition to her role as a pediatric intensivist at CHEO, she is the Pediatric Critical Care Program Director, the Medical Director of CHEO's Medical Emergency Team and the Medical Director of Simulation at CHEO since 2014.
Along with her colleagues, Dr. Lobos has developed an inter-professional educational program, the MET Recognition Course, aimed at increasing the recognition and management of acutely ill children. This program, taught locally to over 400 nurses, respiratory therapists and allied health care providers, has been implemented on the inpatient wards at the Hospital for Sick Children in Toronto. In addition, Dr Lobos is part of the national educational research project for TREKK (Translating Emergency Knowledge for Kids) as a simulation and content expert, to develop printed materials, simulation scenarios and interviews with experts on a variety of acute care topics for dissemination nationally and internationally.
Dr. Lobos is passionate about using simulation to improve patient safety. She has been invited to speak internationally regarding her published research in simulation focusing on using simulation to improve root cause analysis and intervention implementation after adverse events.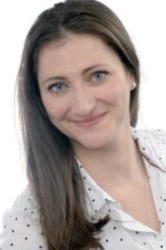 Christina Toppozini, Simulation Program Educator
Christina Toppozini graduated in with her BScN from Queen's University in 2003. Since then she has focused her career on the pediatric population having worked the full spectrum of pediatric care from new born nursery, to public health. In 2006, she began working in CHEO's Pediatric Intensive Care Unit and became a member of the Rapid Response Team. After moving to South Africa in 2010 for a year to complete her capstone project on Pediatric Tuberculosis, Christina received her Masters of Public Health from the University of Waterloo. Christina is currently the Simulation Nurse Educator at CHEO.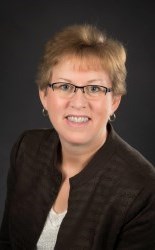 Mary MacNeil, Operations Director
Mary is the Director of Nursing Practice, Education and Clinical Technology, Simulation Program, Vascular Access Team and Scheduling Office. She has enjoyed a varied career at CHEO working as a front line nurse in Emergency and Intensive Care as well as in positions in quality improvement, education and research. She is driven to find ways to support nurses in their professional development, ensuring excellence in practice while also supporting work life balance through her oversight of the Scheduling Office.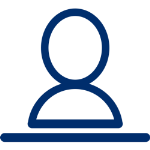 Dr. Rick Gerein, Faculty Development
Dr. Rick Gerein is an assistant professor with the Division of Emergency Medicine at CHEO. He earned his MD at the University of Saskatchewan, followed by residency training in pediatrics at the Stollery Children's Hospital in Edmonton, and a fellowship in pediatric emergency medicine at CHEO.
He is currently the medical director of ED simulation and PALS, as well as the lead for Faculty Development in simulation and debriefing. An avid skier, his ideal day is spent on the slopes with his family, trying to keep up with his 4 boys.