Thanks to a grant from Pampers and support from the CHEO Foundation, we have been able to bring in technology that makes it easier for infants and their families to virtually connect. This new technology is helping facilitate early bonding and attachment, by making sure parents and caregivers are able to see their newborn even when they can't be at CHEO in-person. It also allows parents and caregivers to continue to be involved in their infants' care by attending rounds on their infant virtually and having direct virtual "face-to-face" discussions with nurses, social workers, physicians, and other staff.
How is the technology being used?
A camera will be safely positioned in a way that would allow an overhead view of the baby which would allow families to watch their babies in real time. The NICU is currently offering 3 possible ways of using the technology:
Having a virtual meeting with the baby and see him in real time.
Meet with the physician to facilitate clinical information communication and meetings
Meet with the nurse to get a daily update on progress
Multiple options can be selected. All calls are made using Zoom technology.
What technology is used?
These meetings are enabled through secure audio and/or video conferencing tools (e.g. PHIPA compliant version of Zoom). This allows the care team, baby and Caregiver(s) to connect without being physically co-located. Meetings are used when one or more Caregiver(s) cannot be at the bedside, or to support physical distancing guidelines recommended for optimal infection control. Each time you will join a call, a verbal consent will be required.
How will these meetings be coordinated?
Upon admission, your healthcare team will offer you the option of using virtual meetings to connect with the baby. Together you can select a preferred time and frequency for the video calls as well as preferred options.
How do I get connected? Is it free of charge?
The meetings are facilitated through Zoom technology which you can download free of charge on any phone or computer using internet. On the App store (Apple) or Google Play (Android) look for the following icon: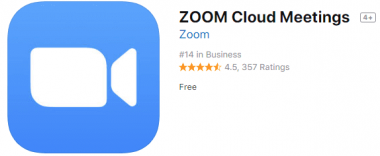 What if I can't be there (or i'd rather not take part)?
No problem! Just let your baby's nurse or resident doctor know you are not interested.
To access the meeting, ask the nurse to provide you with the following information:
Meeting ID
Password
Time of meeting
Day of meetings (or frequency)
For more information on how to join a meeting, view Zoom Support's guide.