About the Bone Health Clinic
The Bone Health clinic provides care and treatment for children with:
rickets
disorders of calcium and phosphate metabolism
primary osteoporosis and osteoporosis secondary to chronic illness
unexplained bone fragility.
How to make an appointment
Physician referral is required. We accept referrals from:
post-natal units in Ottawa
referrals from family physicians
transfers from other hospitals when families relocate
transfers from other clinics at CHEO.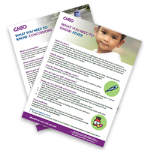 Need more information?

Visit our online resource section to learn about a variety of health topics for children and youth and access CHEO recommended websites, books, apps, videos and more!

Resources and support
Contact us
Mail or fax your referral form to:
Bone Health Clinic (C-10)
CHEO
401 Smyth Road
Ottawa, ON K1H 8L1
Fax: 613-738-4236