About the Neurology Clinic
Our clinic cares for children and youth with a variety of neurological disorders. The neurology clinic is staffed with Neurologists, Nurses, Nurse Case Managers, Neurophysiology Technologists, a Social Worker, a Dietitian, Patient Service Clerks, and Administrative Supports.
What services does the clinic provide?
seizures
epilepsy
headaches
Cerebral Palsy
developmental delay
movement disorders
sleep disorders
muscle disorders
Rett Syndrome
Angelman Syndrome
Tourette Syndrome
We also provide diagnostic testing using a variety of modalities, including:
Electroencephalography (EEG)
Evoked Potentials (EP)
Electromyography (EMG)
Epilepsy Monitoring Unit (EMU)
How to Make an Appointment
All patients must be referred by a Physician or Nurse Practitioner.
Mail or fax the referral form to:
Neurology Clinic (C-A), CHEO
401 Smyth Road
Ottawa, ON K1H 8L1
Fax: 613-738-4879
For patients of the Neurology Clinic
Who should we call if we are worried or have questions?
For any emergency, call 911. This includes emergencies involving your child's neurological problem.
Call one of our Nurse Case Managers if you have a question about your child's neurological problem. This line is not for urgent calls. Our nurses are here to give support, education, and will work to coordinate your child's care. It may take 1 to 3 days for us to get back to you (and sometimes longer during holidays). We will return the most serious calls first.
Please do not call the nurses line if you have not yet been assessed by a CHEO neurologist.
Please call your family doctor or pediatrician for everything else.
Social Work
We can make arrangements for your family to see a social worker as needed. The social worker will support your family with counseling support and complete a Psychosocial assessment to determine your family's needs and refer to appropriate community resources. We can also provide occasional longer term follow up with patients and families if it is needed. We can provide assistance to families with financial constraints relating to their child or youth's illness. We can support both short term and longer term financial needs.
Clinic contact information:
For patients of Dr. Doja
Call: Sue Vanvolkingburgh, Neurology Case Manager 613—737-7600 x3790. Monday to Friday 8 AM to 4 PM
For patients of Dr. Whiting and Sammantha Dunseath (NP)
Call: Stephanie Borris, Neurology Case Manager 613—737-7600 x4504. Monday to Friday 8 AM to 4 PM
For patients of Dr. McMillan, Dr. Pohl and Dr. Muir
Call: Renee Brannan, Neurology Case Manager 613—737-7600 x2159. Monday to Friday 8 AM to 4 PM
For patients of Dr. Sell, Dr. Thulasirajah
Call: Traci Keating, Neurology Case Manager 613—737-7600 x2158. Monday to Friday 8 AM to 4 PM
Epilepsy monitoring unit
CHEO's Epilepsy Monitoring Unit (EMU) monitors and assesses patients with suspected and pre-existing epilepsy. Patients will typically come for a stay of about 52 hours. This gives them time to adjust to medication and lets our staff monitor for any effects.
Our EMU has modern tools for diagnosing and treating epilepsy. The EMU is staffed by our Neurology team and the Pediatric Intensive Care Unit to ensure that all aspects of the patient experience are looked after.
What to expect when you visit the EMU
Photo Gallery: Epilepsy Monitoring Unit will appear here on the public site.
The EMU is the Epilepsy Monitoring Unit. This is a place where you are connected to specials wires that read your brain's activity. We will talk more about that later.
The EMU is a pretty fun place! There are games and activities. In the EMU, the doctors will learn about how your brain is working. Let's read and understand more about what will happen when you come to the EMU at CHEO.
In the EMU you will be having an EEG (electroencephalogram).
What is an EEG?
An EEG is a special test that help the doctors track and record your brain's wave patterns. It's a way for the doctors to understand more about how your brain works.
For the EEG, small discs with thin wires (electrodes) are placed on your head. These wires help send signals to a computer to record the resultswhat your brain is doing. You will have a video camera in your room. The video camera will watch what you and your wonderful brain are doing. Don't worry the EEG does NOT read your mind!
What will happen when I arrive at the hospital?
When you arrive at the hospital, you will go to the admitting office, this a place where your parent or caregiver will sign some papers. This is what the office looks like. Next, you will go to your EMU room, where you will stay for the next days. Come and check out the room!
This is one of the EMU rooms. You will have your own room and one of your parents or caregivers will stay in the same room as you! Sleepover!
In your room, the camera cannot see behind the privacy curtain. So you can change and use the toilet with privacy! Don't forget to close the curtain!
While in the EMU, there will be times when the nurse will be checking in with you. The nurse will check your temperature, your blood pressure (how strong your heart is working ) and your oxygen level (the air that you are breathing). None of these things will hurt. Please ask the nurse if you have any questions.
Who will I meet?
You may meet a child life specialist. This is someone who can help explain what is happening and keep you busy with fun stuff while in the EMU. The child life specialist may help you to find an activity to do while the leads are being put on. Again, if you have any questions, please ask any of the people who are here to help you!
Next, you will meet a neurophysiology technologist. You're probably asking yourself, "Who's that?". A neurophysiology technologistis the person that will place the tiny wires on your head, called leads. They help set up all the equipment to collect your brain activity. Let's talk about that next!
What are leads?
Now you're probably wondering what are leads? Leads are those little round circles attached to different colored wires. The leads are placed onto special spots on your head. The leads help us to understand what your brain is doing. The leads don't hurt. Don't worry, the leads don't read your mind either!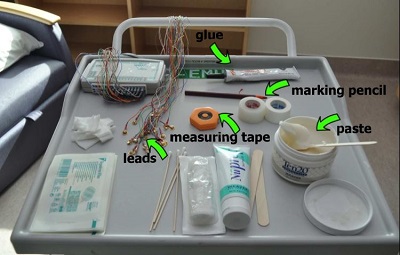 Also, here are a few things you may see when we put the leads on your head. These things will NOT hurt you. When we put the leads on your head, staying very still is a BIG help! Some people like to listen to music, watch TV or play with a toy while we put on the leads. Remember to keep your head still. Kind of like a being statue.
What happens next?
Next, you will find a place on the bed and get comfortable.The neurophysiology technologist will start by measuring your head and making marks with a special crayon. These marks come off later.
We keep the leads in place with a special paste. Sometimes we may use a special hair dryer to dry the paste.
Next, they will wrap your head lightly with a special cloth. This cloth acts like hat and helps the leads to stay in place.
You also will have some leads with stickers placed on your chest. These watch what your heart is doing. We will also put leads on your cheeks too.
The long colored wires will be connected to a white box that will be placed in a little bag. This makes it easier to carry when you move around in the room, especially if you want to play!
Sometimes, we may ask you to do a special breathing exercise. There may be a special light that you will have to look at.
The little white box is connected to the computer. The computer helps to see and record your brain activity. If you look on the computer monitor you will see all sorts of wavy lines moving on the screen. This is what brain activity looks like. The special doctors on the neurology team know how to read this special language!
Once you are all set-up, you can choose to do an activity if you wish! You can also bring some of your own favorite things from home to help keep you busy. Also, don't forget there is a menu where you can order food (breakfast, lunch, dinner and snacks!) from CHEO's Food Services.
What will you do to keep busy? You can:

play a board game
make a craft
watch a movie
play a video game
listen to music
If you have any further questions, call our EMU coordinator at 613 737 7600 extension 3743.
How to make an appointment
Your CHEO neurologist can refer you to the EMU. Contact our neurology clinic for more information on how to access our services.
Epilepsy monitoring unit referral form
Clinic to Community
Epilepsy Ottawa offers Clinic to Community to teens with epilepsy and families whose children have epilepsy. Whether you're dealing with a new epilepsy diagnosis, or you feel that your family could use more information about living well with epilepsy, reducing the risks associated with seizures, identifying when a seizure is a medical emergency or school support, we'd be happy to meet with you.
If you are under 18 and have epilepsy or if you have a child with epilepsy and would like to set up an appointment, visit the Clinic to Community website.
Goals of the clinic to community program:
Provide individuals and their families with information about seizures, seizure first aid and epilepsy.
Provide individuals and their family with a network of support services to help everyone in the family live well with a diagnosis of epilepsy.
Reduce the burden of epilepsy on the family, the health care system and the Ontario economy.
Clinic to Communityis offered by Epilepsy Ottawa. Visit their website for more information.