About the Endocrinology Clinic
Our clinic provides care for:
diabetes (please visit our diabetes clinic page for important referral information.)
growth disorders
puberty disorders
thyroid disorders
adrenal gland dysfunction, including adrenal suppression (clinicians are encouraged to refer to the Canadian Paediatric Society's practice point about adrenal suppression for initial guidance.)
pituitary disorders
hypoglycemia of suspected endocrine origin
calcium disorders, rickets, osteoporosis and other bone diseases
sexual development disorders
lipid disorders
pediatric obesity
transgender and gender non-binary youth
Our team consists of:
nine pediatric endocrinologists
endocrinology nurses
diabetes nurse educators
dietitians
social workers
Our team works alongside the Centre for Healthy Active Living (CHAL) program and the Gender Diversity clinic.
Our team is active in diabetes, endocrinology, obesity, and transgender health and bone health research. We have a Subspecialty Fellowship Training Program that is accredited by the Royal College of Physicians and Surgeons of Canada.
How to make an appointment
Physician referral is required.
Mail or fax your referral, including a growth chart and relevant investigations, to:
Clinic C-10
Endocrinology Clinic, CHEO
401 Smyth Road
Ottawa, ON K1H 8L1
Fax: 613-738-4236
Gender diversity
Adolescent Clinic C-5
Fax: 613-738-4258,
Tel: 613-737-7600, extension 3912
E-Consultation is available through LHINWorks. E-consultations are available for general pediatric endocrinology and pediatric diabetes, hyperlipidemia and obesity.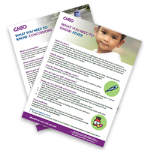 Need more information?

Visit our online resource section to learn about a variety of health topics for children and youth and access CHEO recommended websites, books, apps, videos and more!

Resources and support