The Department of Ophthalmology's team of ophthalmologists, orthoptists, and nurses provides specialized care for surgical and medical diseases of the eye and orbit, including conditions such as:
strabismus/nystagmus
amblyopia
cataract and glaucoma
trauma to the eye and surrounding structures
retinal disease, including retinal dystrophies and retinopathy of prematurity
eyelid and lacrimal abnormalities including ptosis ("droopy eyelid") and blocked tear duct
genetic eye diseases
inflammation and infection of the eye and surrounding structures
ocular, orbital, and eyelid tumours/lesions, including retinoblastoma
We provide specialized care for both emergent and non-emergent care for outpatients from the Ottawa/Gatineau Region, Eastern/Northern Ontario and Western Quebec, and Iqaluit. We also provide ophthalmic consultation services for CHEO inpatients.
How to make an appointment
Children and youth are seen by referral only. Patients can be referred by an ophthalmologist, pediatrician, family doctor, or optometrist.
Referral criteria
Urgent referral criteria:
absent red reflex/leukocoria
trauma
vision-threatening infections/cellulitis
The referring practitioner must speak directly to the on-call ophthalmologist at 613-737-7600 x 0 to arrange an emergency ophthalmic consultation.
Non-urgent referral criteria:
surgical problems (including strabismus, nystagmus, cataracts, glaucoma, eyelid/orbital lesions, disease, blocked tear duct)
inflammation, infection and tumours
ocular genetics and retinal dystrophies
Due to high demand, we unfortunately cannot accept referrals for:
vision screening
non-acute visual changes
undifferentiated headaches/migraines
uncomplicated assessment of refractive error
requests for a second opinion (for patients who are already followed by an ophthalmologist)
non-urgent inpatient consultations


It is recommended that these children and youth be seen by an optometrist or community ophthalmologist.
Referral forms
All properly-completed referrals are triaged by our team in a timely fashion. Priority is given to conditions that threaten vision and/or require surgery.
To expedite your referral, please complete the appropriate form. Please note that demand for pediatric ophthalmology consultation is very high. We depend on referring providers to provide the critical information needed to appropriately triage each referral. Inadequate details/documentation may result in delays in your patient being seen.
Referral form for optometrists
Mailing instructions
Mail or fax the referral form to:

Clinic C-8

Ophthalmology Clinic, CHEO

401 Smyth Road

Ottawa, ON K1H 8L1

Fax: 613-738-4237

Please indicate on the referral if an interpreter is required and for which language.
About your appointment
The Ophthalmology Clinic is located in C-8. Your child's appointment may take up to three hours. Please arrive early to allow for any delays in parking and registration.
Please bring all of the following with you to your appointment:
a valid health card for your child
your child's most recently-prescribed eyeglasses and/or eyeglass prescription
a list of all of your child's medications, including eye drops and pills — if possible, please bring the actual bottles or a list from the pharmacy
the name of both your child's family physician/pediatrician and your child's optometrist/ophthalmologist
any documentation (such photos, imaging, etc.) that you or your referring doctor feels will be helpful for us to understand the concerns regarding your child
something for you and your child to do together while waiting in the clinic (books, paper and crayons, headphones, small quiet toys, and games) and consider bringing a snack and/or drink
Because CHEO is a teaching hospital your may be seen by a medical student, ophthalmology resident or ophthalmology fellow before they see an orthoptist or ophthalmologist. If you have received a call for a follow up visit or referral to the Eye Institute at the Ottawa Hospital, visit their website for more information.
Telehealth appointments
Before your telehealth appointment please check and record your child's vision in their right eye and their left eye.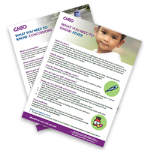 Need more information?

Visit our online resource section to learn about a variety of health topics for children and youth and access CHEO recommended websites, books, apps, videos and more!

Resources and support
Frequently asked questions (FAQs)
The following FAQs and answers may help you find the information you are looking for.
My child was referred and I have not yet received an appointment, why?
Due to overwhelming demand, wait times for non-urgent consults can be delayed. Your referring provider can confirm that we have received your child's consult and can provide an estimated wait time.
I have an upcoming appointment, what do I need to know before I arrive?
Please see the information above.
My follow-up appointment is past due, who do I contact?
Unfortunately, due to overwhelming demand, it is possible that follow up appointments can be behind schedule. You can contact our central booking center at 613-737-2222 or our ophthalmology clerk at 613-737-7600 ext. 2386.
I have a question about the scheduling of an upcoming surgery, who do I contact?
You can contact our administrative assistant at 613-737-2235.
I have a medical question about my child's eyes. Who can I contact?
If your child is currently a patient of CHEO ophthalmology, you can contact our ophthalmology nurse at 613-737-2418. Unfortunately, we are unable to answer any medical questions concerning children who are not currently a patient of ours.
Does CHEO Ophthalmology provide vision therapy?
No.
What is an orthoptist?
Orthoptists are certified eye care professionals who specialize in the non-surgical treatment of vision disorders. They assess, evaluate and identify disorders particularly in the areas of strabismus and amblyopia. They work with the ophthalmologist responsible for your child's care. You are most likely to meet an orthoptist if your child has ocular motility problems.
What is the difference between an ophthalmologist and an optometrist?
An ophthalmologist is a fully licensed medical doctor who specializes in medical and surgical eye problems. Each CHEO eye clinic is held under the supervision of a staff ophthalmologist. They will assess and treat your child's eye condition and discuss a plan of care, order testing, surgery and more.
An optometrist is a health-care professional who provides primary eye care through eye examinations to detect and treat various visual abnormalities and eye diseases.